Welcome to MAEF
Learn about Ibiza and Formentera's Archaeological Museum and rediscover its astounding historical legacy
The Archaeological Museum is the institution that preserves, researches and exhibits the remains belonging to the historical past from the islands of Ibiza and Formentera. It is divided in two locations, both found in the city of Ibiza. Ibiza and Formentera's Archaeological Museum has a museographic content which spans three thousand years of Pytiusic history, from the first people who settled in the islands to the Catalan conquest in 1235. It is situated in an iconic spot inside the fortified city of Dalt Vila, in a place known as "Plaza de la Catedral" (Cathedral Square), which is the highest area of the city. In the surrounding area, we can find some historical buildings, such as the Castle, the Episcopal Palace, the House of the Curia, the old "Lonja" (a kind of market), which has currently become a viewpoint (from where you can enjoy incredible views of La Marina neighbourhood, the harbour and the modern new districts from the city), and Santa Maria church, which was constituted a Cathedral in 1785.
Puig des Molins' Monographic Museum is located inside the archaeological site of Puig des Molins Necropolis acting as a great Interpretation Centre of the site, as well as being a visitor's reception point. In Puig des Molins' Monographic Museum, the visitor can learn about both the history of the site as well as the most important archaeological materials recovered from the necropolis, dully explained and in context.
A Museum with two locations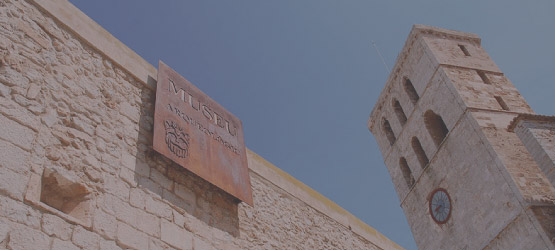 Dalt Vila's Archaeological Museum
The Dalt Vila's Museum is located in an emblematic place, within the walled city of Dalt Vila, in its highest area known as Cathedral Square. Around it are a whole series ...
See more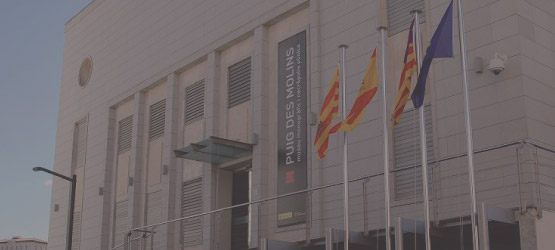 Puig des Molins' Monographic Museum
Puig des Molins was the city of Eivissa's cemetery during all Antiquity. This is the reason Puig des Molins' Monographic Museum has now become this great Ebusitan necropolis' visitors centre...
See more...
  Highlighted pieces
Pale turquoise blue glass paste aryballos with two ring handles and a circular rim disk (late 5th century BC). It is decorated with yellow glass

Bell shaped female figure made in a mould (3rd-2nd century BC). It is wearing a high 'kalathos' with two braids on both sides of its